We want to put our clients minds at ease and help where we can.
In the midst of the panic and fear that some of us may be feeling during this time we are offering Meals on the Go.
As we follow protocols and policies from the Fraser Health Authority and check daily on updates of COVID-19 from our government, we are also implementing extra cleaning and sanitizing high traffic areas of our restaurant.
Our team is carefully considering your health and safety during this time.
If you are looking for alternative ways to feed your hunger we are now offering Meals on the Go. Here's whats on the menu: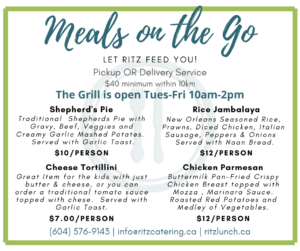 We are operating on a limited menu in the Grill until this pandemic is over.  Tuesday-Friday 10am-2pm.
If you have any questions or concerns please do not hesitate to contact us. We look forward to serving you during this time.